Watershed Day For The US Dollar?
The Euro currency has over 60% weighting in the US Dollar Index. I feel the strength in the greenback over the last half year was more a function of a weak Euro, a consequence of poor economic conditions in the countries which constitute the Euro zone, than a robust American economy. Weak employment numbers in the US, per yesterday's ADP report, is a good example. Draghi's comments today confused the hell out of pundits as to what the European Central Bank was up to, thus a crazy trading day for the currencies.
From a technical analysis stand point, today's volatile trade saw the Euro trade below yesterday's close (the lowest point in the Euro's six month bear market), then jump like a scalded ape, surpassing yesterday's high trade. This is what is known as an outside-reversal-day. Trading programs which key off of technical analysis only (with a lot of billions of dollars behind them) consider this to be a bullish event. It is a rejection of lower Euro value. Economists are slaving away on their white papers, trying to analyse what's ado. What did Draghi mean? What is the state of the European economy?
Technical analysis is a tell on the symptoms, not the causes. When a person grabs his chest and drops to the ground I think it would be safe for you to deduce that he just suffered a heart attack. You do not have a clue as to whether it was from smoking, eating fatty foods, congenital, etc. But you do know he has a problem with his ticker. As an investor, would you be inclined to issue a favorable insurance policy to this guy even though you just witnessed him do a Peter Pan? Would you wait until you knew the full details of his health before deciding to raise his premium? I do not think too many people are PC with their investment decisions.
Anyway, I will conclude my rant with the opinion that the greenback rally has just about run its course. You can go long in the Euro (including near proxies like the Swiss Franc and the British Pound) verses the buck or you can buy gold and silver (the original currencies). Gold and silver fashioned three major outside-reversal-days in November: a rejection of lower prices in no uncertain terms.
A close above 1.2392 by the Euro verses the US Dollar today will confirm its reversal.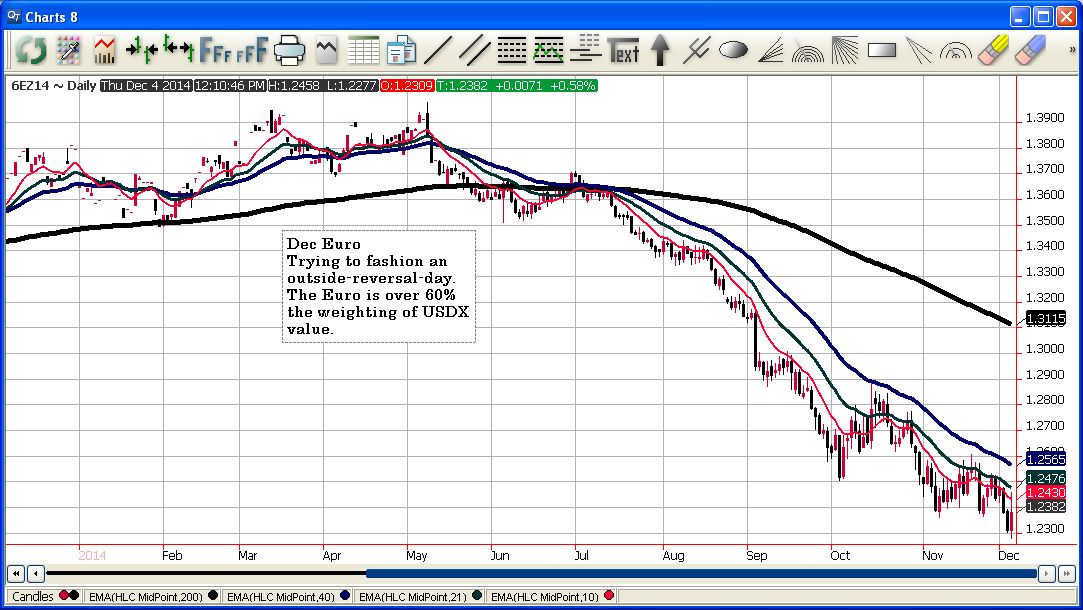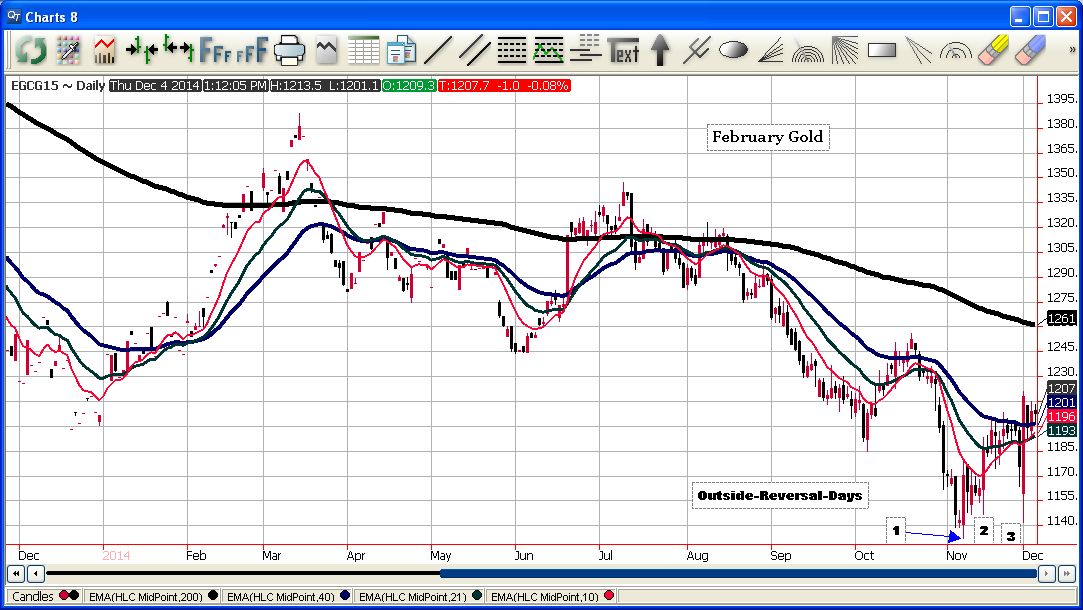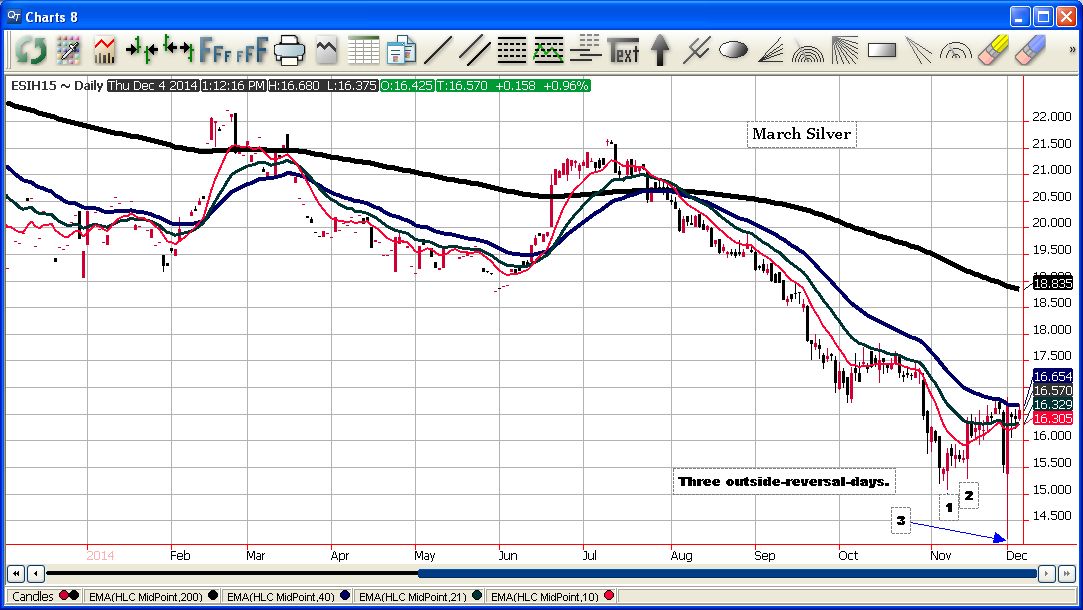 Regards,
 Walt
 Walter Otstott
Energies & Metals Markets
Dallas Commodity Company, Inc.
The Colonnade, Building III
15305 Dallas Parkway, Suite 930
Addison, Texas 75001
(972) 387-0080
(972) 387-0018, fax
(214) 537-9750, cell
« All Posts | ‹ December '15 Corn | Outside-Reversals In Weekly Gold & Silver Charts ›
---
This material has been prepared by a sales or trading employee or agent of Dallas Commodity Company and is, or is in the nature of, a solicitation. This material is not a research report prepared by Dallas Commodity Company's Research Department. By accepting this communication, you agree that you are an experienced user of the futures markets, capable of making independent trading decisions, and agree that you are not, and will not, rely solely on this communication in making trading decisions.
The risk of loss in trading commodity futures contracts can be substantial. You should therefore carefully consider whether such trading is suitable for you in light of your financial condition. You may sustain a total loss of the initial margin funds and any additional funds that you deposit with your broker to establish or maintain a position in the commodity futures market.