Richard Jemison's Point & Figure Newsletter – History
The law of supply and demand governs the movement of  Commodity Futures prices. Imbalances in supply and demand causes prices to move up and down.
The Point & Figure method of analyzing movements is designed simply as a logical, organized way of recording the battle between supply and demand. The Point & Figure charts show whether supply or demand is "winning the battle". Chart patterns and trend lines will guide the buy and sell decisions.
History and Description of Point & Figure Charts
The technique is over 100 years old. A detailed history can be found in Jeremy du Plessis' "The Definitive Guide to Point and Figure" where many references and examples are cited.
Du Plessis describes their development from a price recording system to a charting method. Traders kept track of prices by writing them down in columns and noticed patterns in their records and started referring to them as fluctuation charts and later, figure charts. Eventually using Xs instead of numbers these charts became known as point charts. Traders used both point charts and figure charts together and referred to them as their point and figure charts, thus Du Plessis suggests the name origin of "point and figure". Modern point and figure charts are drawn with Xs and Os where columns of Xs are rising prices and columns of Os are falling prices.
Advantages of Point and Figure
Point and Figure charts are based on price action, not time. If there are no significant price moves, nothing changes. Proponents argue that this difference makes finding patterns and trends in P&F charts easier than other charts because it filters out unnecessary data.1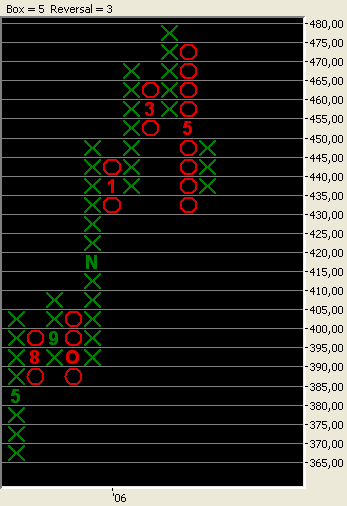 Sample point and figure chart with box size set to $5 and reversal threshold set to 3 box sizes.
To view a sample issue of Rick Jemison's P&F View of the Markets
Click Here

To learn more about markets covered and the techniques used please
Click Here
Sign up for a 2 week free trial to learn more about this valuable tool and have it delivered by email each morning directly to your inbox. 

Your subscription includes:
Daily edition of "The Point & Figure View of Selected Markets"
List of markets tracked
Analysis and comments for twenty selected markets
Explanation of Rick's methodology of market analysis
Guide to reading the daily spreadsheets
Rick's P&F Trading Rules
1Source: Wikipedia
---
This material has been prepared by a sales or trading employee or agent of Dallas Commodity Company and is, or is in the nature of, a solicitation. This material is not a research report prepared by Dallas Commodity Company's Research Department. By accepting this communication, you agree that you are an experienced user of the futures markets, capable of making independent trading decisions, and agree that you are not, and will not, rely solely on this communication in making trading decisions.
The risk of loss in trading commodity futures contracts can be substantial. You should therefore carefully consider whether such trading is suitable for you in light of your financial condition. You may sustain a total loss of the initial margin funds and any additional funds that you deposit with your broker to establish or maintain a position in the commodity futures market.